Lawn Care Services from Turf Works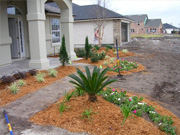 Turf Works is a lawn care / lawn maintenance firm serving both the commercial as well as the residential customer. Turf Works has been serving Jacksonville Florida and surrounding area's with integrity since 1985. Our lawn care services include mowing the grass, weed eating, trimming the shrubs, weed control in the plant beds, edging all sidewalks, walkways, driveways, curbs, patios & plant beds and when we finish we blow off all the paved surfaces to leave your home or office in a neat professional manor. Lawn fertilization, insect control, fungicide applications, iIrrigation systems repairs can also be included in the lawn care / lawn maintenance service.
You can request a quote online or give us a call today.
Phone: 904-642-2220
E-Mail: sales@turfworks.com
Jacksonville, Florida's first choice for landscape and lawn care needs.